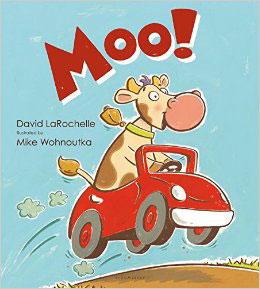 by David LaRochelle
illus­trat­ed by Mike Wohnout­ka
Walk­er Books for Young Read­ers, 2013
Ages: Preschool and up
ISBN 978–0‑8027–3409‑9
Board book ISBN 978–0‑8027–3802‑8
When Cow gets her hooves on the farmer's car, she takes it for a wild ride through the coun­try. Moooo! But a bump in the road brings this joyride to a trou­ble­some end. Using just one word (well, maybe two), this imag­i­na­tive pic­ture book will have read­ers laugh­ing one moment and on the edge of their seats the next, as it cap­tures the highs and lows of a mis­chie­vous cow's excit­ing day.
ALA Notable Book
Cen­ter of Children's Books Blue Rib­bon Book
Col­orado Libraries Bell Award for Ear­ly Lit­er­a­cy
Junior Library Guild Selec­tion
Min­neso­ta Book Award
Mis­souri Build­ing Block Award nom­i­nee
Star of the North Chil­dren's Choice Pic­ture Book Award
Ten­nessee Vol­un­teer Book Award nominee
David LaRochelle and illus­tra­tor Mike Wohnout­ka at the Min­neso­ta State Fair with Buck­le Up, the cow.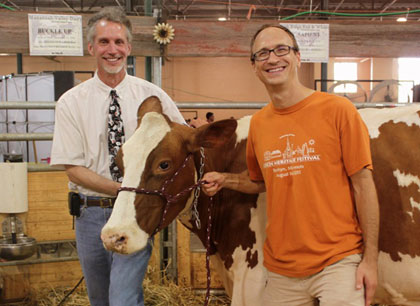 "There are only a hand­ful of words in this book; the most impor­tant one is "Moo!." Punc­tu­a­tion, rep­e­ti­tion, and rhythm give it mul­ti­ple mean­ings as read­ers turn the pages, which are joy­ful­ly illus­trat­ed with splashy gouache pri­ma­ry col­ors. It is hard to imag­ine a more expres­sive cow than this title's car­toon bovine…. Chil­dren will laugh at the use of type and the art­ful arrange­ment of let­ters to con­vey action and sound. For exam­ple, when the cow dri­ves off a cliff, her moo arcs up and then loops down, indi­cat­ing the rise and fall of her bel­low. For many chil­dren, this book will be their first intro­duc­tion to punc­tu­a­tion. Even the very young will see how excla­ma­tion points and dash­es can cre­ate a chop­py, ner­vous feel­ing when the cow is con­front­ed by a police offi­cer. This book is bold, orig­i­nal, and fun­ny, and should be part of every pic­ture-book col­lec­tion." (School Library Jour­nal, starred review)
"The readaloud's the real fun here, since all this adven­ture is con­veyed by var­i­ous iter­a­tions of the word "Moo"—and what a lot of pos­si­bil­i­ties it offers…Kids could also read this inde­pen­dent­ly with only a quick acquain­tance, and it would offer a great oppor­tu­ni­ty for ener­getic group moo­ing in sto­ry­time." (The Bul­letin of the Cen­ter for Chil­dren's Books, starred review)
"Wohnoutka's cheery, car­toon­ish gouache pic­tures deliv­er the action acces­si­bly enough for tod­dlers to enjoy, while new read­ers will ace the sim­ple text and get the broad jokes." (Kirkus Reviews)
"A delight­ful visu­al adven­ture." (Book­list)
"An utter­ly fun moo-aloud." (Pub­lish­ers Week­ly)